2 Person Hot Tub
A portable hot tub need not be very large. For the comfort of one or two persons, there is a 2 person hot tub 110v that is just right for you. They can be quite comfortable and are easily setup. Many small hot tubs are of the plug and play type, which means they just need to be filled with water and plugged in. The power cord that comes with these spas contains the necessary GFCI (ground fault circuit interruptor) so safety is taken care of.
The power outlet should be relatively free from other devices on that power line. The washing machine or freezer does not make a good companion to a hot tub on the same 15A circuit and chances are using both together will blow the fuse or circuit breaker.
This is why hot tub manufacturers refer to a "dedicated outlet". This simply means that of the power outlets on the same circuit, there should not be any heavy load that will cause a low voltage condition for the spa.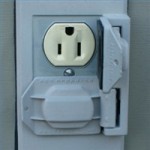 A 110v hot tub that plugs in means that there is a 110v heater (if the spa has a heater at all) installed. 110v heaters do not perform as well as 220v heaters – it will take the spa about twice as long to heat. Some spas do not have a heater at all but rely on the main pump to provide the heat needed to heat the spa.
2 person hot tubs sometimes come with a cover. The cover supplied may be a soft cover. If the unit is being used outdoors it is advisable to upgrade or purchase a hard cover so that rain can runoff. Hard covers are much more rigid and robust than the soft covers. Usually the soft covers provide the same insulation value, but the hard cover has the rigidness built in that allows for sturdier outdoor use.
2 person hot tubs can simply be cheap blow-up type rafts, but they are also available in a more sturdy acrylic version. Acrylic is the material of choice by most quality spa manufacturers in the world as it is resistent to staining or warping. Look for a spa brand that uses either Lucite acrylic or Aristech acrylic to assure the spa shell is of the best quality. This still does not mean the spa will be of good quality as that depends on the manufacturing process and design of the plumbing layout.
When purchasing a 2 person hot tub it is best to deal with a hot tub manufacturer that has been in business for over 20 years and preferrably longer. One manufacturer that makes 2 person hot tubs is QCA Spas and they are available online through this website. Contact us for details.