Small hot tubs are usually more affordable, fit in more places, use less energy but are always ready when you need a good massage.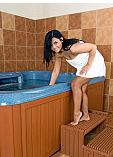 Having a small hot tub in your home is considered a dream come true for the many. Imagine yourself owning that hot tub that you have always wanted, and getting to enjoy it every day in the privacy of your own home.  Buying one may seem expensive if you buy from your nearby pool store, but you can now select and buy a selection of small hot tubs for great prices on the internet. Many manufacturers now have websites where you can buy direct at affordable prices, but you want to be sure to go with a reputable supplier.  Sites like HotTubSpaTips.com offer spas by manufactures such as QCA Spas – one of the oldest spa manufacturers in the US.  The factory offers a comprehensive warranty and free delivery too.  So here are some reasons you may want to invest in a hot tub for your home:
1)      Easy fit to your home– many shallower spas can easily fit through the door. Manufacturers have made some smaller models of hot tubs that can fit with ease indoors or out. Just right for two or three people, they are still roomy and made for each person to have a comfortable with massage options.
2)      Convenient – you don't have to leave home and travel to a gym or a local spa where a lot of people that you don't know are sharing one hot tub. With a hot tub in your home, you can enjoy it alone or with your family members any time you want – day or night.
3)      Therapeutic – small hot tubs offer the same health benefits that you get from the spas. They have massage jets that target the joints, muscles and nerve spots that need to provide pain relief after long workouts, playing sports or long hours in the office. Hydrotherapy can relieve the stresses of your body and get you recharges for the next day.
4)      Skin benefits – The steam from the warm water can help open the skin pores on your face.  Skin will look fresh and clean.
5)      Great for relaxation – Meditate, read your favorite book, listen to your mp3 player or just have a conversation with you partner.  Spending time in a hot tub is a great way to relax, socialize and forget about your problems.
6)      Fun – Everyone in the family can enjoy spending time in the spa. From a children enjoying the bubbles, to husbands and wives sharing a private and romantic evening together, fun is the word when you own a hot tub .
If you want to enjoy all the benefits of hot tub ownership, now is the time for you to go online and get the best small hot tubs available. Enjoy the pleasures of hot tubbing every day at home.  Sleep better, feel better and enjoy time together.  Your hot tub will give you the massage benefits, the prestige and comfort that you have been waiting for.