All those little toys, garden supplies, games, spa accessories and outdoor items that are laying all over the backyard and deck may just need a little organization.
As the saying goes, "A place for everything and everything in its place".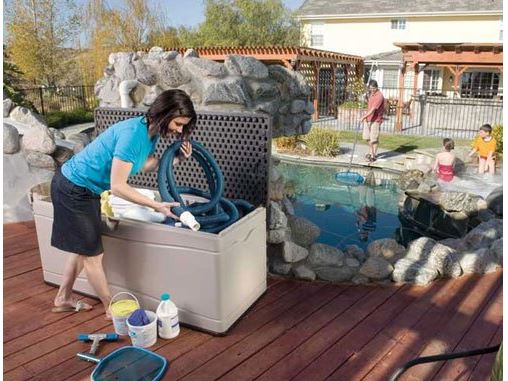 Tired of tripping over lots of little stuff in the back?  Embarrased when family and friends come over to visit?  No more unsightly backyard or deck mess with a Lifetime Extra Large Deck Box.
These are one of the highest rated backyard accessories available with hundreds of satisfied customers.  Read some of the reviews on the Extra Large Deck Box here and see if this deck box is right for you.
Hot tub towels, extra filters, balls and toys, bike pump or even hot tub drain pump – you decide what you want to store away in this extra large deck box.
Capacity of this box is 130 gallons or 16 1/2 cubic feet.  It is 57 inches wide on the inside and 23 3/4″ tall.  The front to back measurement is 20 3/4″. This lid is also lockable with a spring hinge for easy closing.
Color is a stylish two-tone design in brown and tan.
This is the highest rated one of many deck boxes.