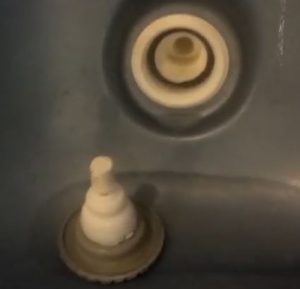 While it is easy to see the jet color, you still need to identify the model number. Many jets will have the model number stamped in the plastic.  This makes it easy to find a replacement.
If you can't see a stamp, or can't remove the jet to look for it, you can still find the right jet by measuring.  First, measure the front diameter of the face of the jet – from the outer edge of the left side of the jet straight over to the outer edge of the right side of the jet (going directly across the center).  Second, measure the height of the jet.  Put the face of jet flat down on a table.  The height from the table up to tip of the jet stem.   It is important to have both measurements to find the right replacement spa jet.

You can choose to change the style of jet as long as you match the size of the face diameter & the back part.  There are a few specialty spa companies, like Hot Tub Outpost, that have spa techs that can match jets for any make and model of hot tub.  All you need to do is take a photo of the front face of the jet & a photo of the back of the jet and send it with the dimensions.  They can send you a link to the exact jet you need. Simply email your information to info@HotTubOutpost.com.
Finding the right replacement jets doesn't have to be a daunting task. You may even find it fun to switch up the type of jets and vary your massage.  Happy hot tubbing!