To get specials and coupons from Hot Tub Outpost, one of the fastest growing online retailers of spa parts and accessories, check the box during your first purchase from the site for the newsletter and to be notified of specials.   They don't send mail too often, probably only once every 3 months or so, or during a big holiday special, but in case you need spare filters, chemicals, covers, accessories, fragrances or other hot tub parts, adding the coupon codes when they come up can save a few bucks.
Speaking of a few bucks, you probably want a few bucks off your first order too, so if it is over $50 at www.HotTubOutpost.com, you can get another 5 dollars in cold hard cash knocked off the price with a coupon code:   5BUCKS .    This will work until December, 2016. UPDATE – working again in March,2017.   If it stops working in March, try 5BUCKS5 instead – that one works on purchases over $60.
If we get a new one then, will post it here too or you can email us at info@hottubspatips.com for the latest coupon codes from your favorite online vendors.
For now, the folks at Hot Tub Outpost will ship fast, treat you right and offer quality spa parts and accessories.  Get your first discount (the coupon actually works twice per customer so use it again when you return as well if there are no seasonal specials).
Well it's Five Bucks, so you may as well use the coupon (if you are buying more than $50 worth of items from HotTubOutpost.com)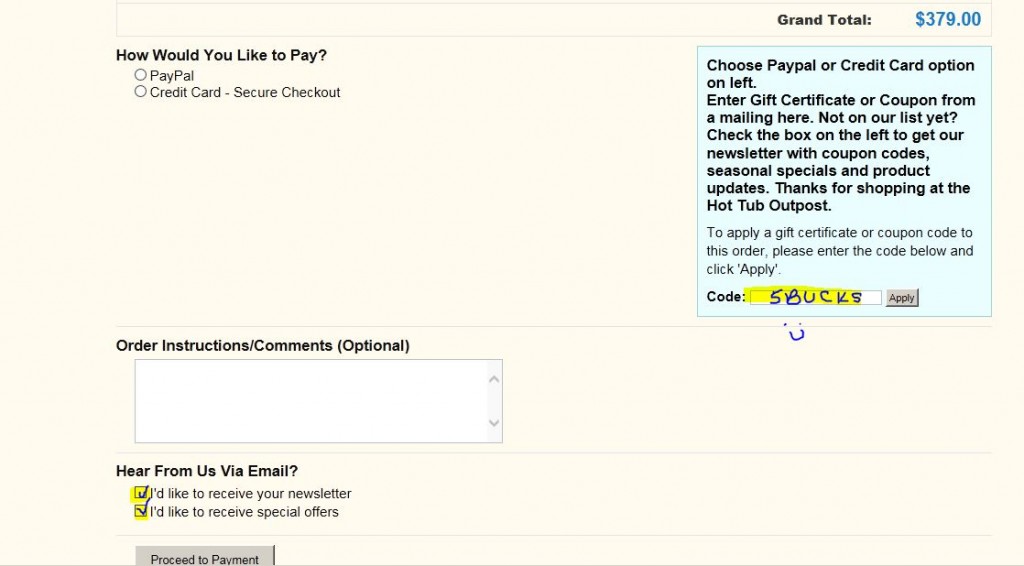 Joining the "Hot Tub Club" or getting on the newsletter or special offers list will notify you of seasonal specials – or check the Facebook page.