Currently one of the best sellers on cheap or affordable portable 110v hot tubs is this Jilon Plastic, Prompt Set 4 person spa.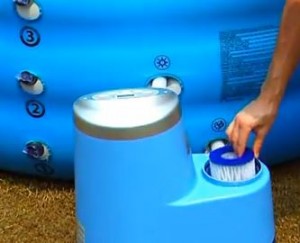 The Prompt Set spa comes with detailed assembly instructions, so refer to the manual for safety rules and instructions.  A filter cartridge is also included with the spa.
First you set up the spa. It comes in a box.  Start with a solid foundation for the spa. If it is going outdoors, be sure there are no sharp or jaggy edges under it.  It should be level and on solid ground to support the weight of the spa.  To start, be sure you have all of the parts. Then unfold the spa and spread it out.  Make sure the polyester cover is the right side up.  Check the GFCI button on the cord supplied with the spa to check and confirm the safety circuit is working.  (push test button)
The spa has 6 buttons including: massage, heat, water filtration, temperature up, temperature down and temp mode.  Connect the pump with the hose and inflate the pool bottom first, then inflate the spa walls in the order specified in the manual so all chambers are full of air.  Keep inflating until it is inflated and then connect the spa pump to pool using the provided connectors.  The grey end goes to the grey, blue to blue and the navy color end to the other navy connector.  Now fill with garden hose to the minimum water level shown on the spa inner wall.  Cover it and then turn it on and allow it to heat. Note the cover has a lock on it, so you can keep others out.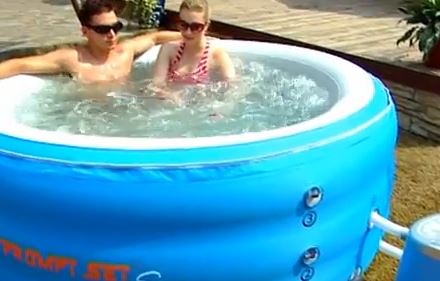 Features of Prompt Set Inflatable Portable Spa
Prompt Set Classic 4 Person Spa (Tan), 2 Adults + 2 Children, 211 Gallon Capacity with 88 Air Massage Jets
Easy to Install with No Tools, Takes about 30 Minutes to Assemble, Portable, Inflatable, Built In Filtration System
6 Function LED Control Panel: Massage, Heat, Filtration, Temperature Increase, Temperature Decrease, Temperature Mode
Digital Cover Safety Locks, Lockable Control Panel, Energy Efficient Insulating Cover, 110-Volt 15-Feet GFCI Cable, 1300-Watt Heater (Max Temp. 104)
500 Watt Massage Air Blower, 600-Gallon/Hour Filter Pump, 55-inch by 76-inch by 29-inch Deep
To Buy or More Details Here: Jilong Plastic, Prompt Set Deluxe Portable 4 Person Spa in Tan, Affordable, Durable and Inflatable, 110V Plug and Play Air Bubble Massage Hot Tub in Box

Specs: Number of Air Jets: 88 PVC Laminated Polyester Cover with Aluminum Foil . Replaceable Filter Cartridges Available Dimensions: 52-inch by 69-inch by
24-inch Height Technical Specification: 110 to 120-Volt, 60Hz Heater: 1320-watt , Air Massage Blower: 500-watt Filter Pump: 600-gallon/hour, 12-volt/60-watt
15-feet GFCI Cord.