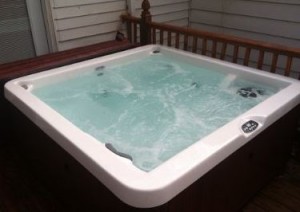 The Laguna Bay Spa is available for under $2,800.
6-person hot tub with easy-to-use digital controls, color of cabinet is
Mahogany
Provides 19 hydrotherapeutic neck, shoulder, calf, and foot jets
Multilayered fiberglass construction with high-density foam insulation
Lounger seat with comfort cushion headrest; slip-resistant acrylic surface
1.5-horsepower motor; measures 73 x 32.5 x 73 inches (W x H x D)
The Laguna Bay Seascape is a five-person hot tub. Complete with digital topside controls to set the
temperature and operate the neck, shoulder, calf, and foot jets. The hot tub is made of multilayered fiberglass and contains high-density foam insulation.
Outfitted with 19 jets that are served by a  1.5-horsepower pump. Other features
include a lounger seat with a comfort cushion headrest, high-quality
heat-retaining synthetic cabinetry, a deluxe cover, and a 110-volt/20 amp
output. The five-person Seascape measures 73 by 32.5 by 73 inches (W x H x D).
More info on the Seascape Spa. Laguna Bay Spas 5-Person 19-Jet Hot Tub with 110V GFCI Plug