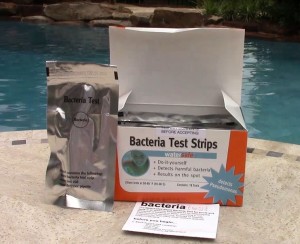 Today we're going to unbox and test the Bacteria Test Strips by WaterSafe. "Howdy and welcome to the Hot Tub Outpost"
Is your water safe?  You don't really know unless you test the water yourself.  Do you trust the health of your family and friends to random chance?
RWI stands for Recreational Water Illness and it can affect anyone who goes into water full of bacteria and other harmful substances.  RWIs can include stomach aches, ear aches, vomiting', that there diarrhea, eye irritation and other health hazards – dear Lord.
We'll make the young'uns wear helmets, safety vests and seatbelts – and rightly so – but most of us don't take the time to assure that the pool or spa water is safe by testing for potentially dangerous RWI-causing bacteria.
Did you know that tests done by the CDC showed over half of the pools and spas had inadequate levels of disinfection?
If the pool or hot tub you want to bathe in is located in a public place, on a cruise ship, at a motel or hotel, water park or even over at Sadie's Saloon, you can bring your own portable water test for peace of mind before leaping' into strange waters.  Going in a lake or river, why not test the water before you swim.
For your own hot tub, it makes sense to test for bacteria rather than not knowing when its time to change the water.
The test is easy and completed in about 15 minutes of which most of that time is just letting the test strip sit in the plastic tube while you're getting the sunscreen on and unpacking the picnic lunch.
Meanwhile the test is looking for Pseudomonas, Aeromonas, E.coli, species of Salmonella, Shigella, Enterobacter, Klebsiella and many other Coliform and non-Coliform bacteria.  – Goodness
Now let's look at the WaterSafe Bacteria Test Strip kit for pool and spas.
What you get when you open the 10-pack box are 10 individually wrapped foil pouches, each containing the complete test kit.
Inside a pouch, you will find a test strip, water sample vial, a plastic dropper and instructions.  These are good for a one time test.
The instructions say to take the clean dropper and squeeze the bulb at the end to collect the water sample, and then release the bulb while holding the dropper inside the vial.
Swirl the vial and let it stand for about 5 minutes on a flat surface.  Then swirl the vial once more and put the test strip inside with the arrow pointing down.
Then just leave the vial with the test strip sit there for 10 minutes without moving it while you go on about your other business preparing for a nice day of fun in the water.
After 10 minutes, a little red line or two will appear on the test strip.  One line means negative for bacteria, so jump in! Two lines means positive for possibly containing bacteria that could be dangerous to your health.
The advantages: Easy to use, no chemicals to fuss with, Fast accurate test to help warn you of water problems in as little as 15 minutes.
Know thy water before ye swimmeth in it.
The disadvantage: That cotton-picking foil pouch doesn't open when you tear at the indent, so get out that hunting knife or at least some scissors. Take care not to cut any of the components inside.  Watersafe's disclaimer notes that the product is a screening test and cannot certify water as safe or unsafe, as it provides only approximate results and does not test for everything.
Is your water safe? Find out with the 15 minute WaterSafe bacteria test for your pool, spa, river, lake or horses trough.
Get your WaterSafe Bacteria test kits online at the Hot Tub Outpost – www.HotTubOutpost.com
Other test strips we offer include hot tub 4 way test strips, pool sanitizer test kits and even drinking water test kits.