Manufacturers recommend changing the hot tub filter every year and cleaning it every couple of weeks.  Most manufacturers further recommend a filter bath or spray for deep cleaning once every couple of months.
Hot Tub Cartridge Care
Remove and rinse off the filter every couple of weeks to open up the filter pores and remove debris, leaves, insects and trapped dirt.  These items are filtered out of the circulating hot tub water and in order to maintain the filter's effectiveness, it needs a regular hose off.
Replace Cartridge Filter Annually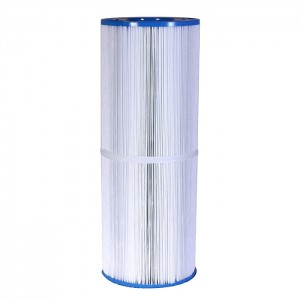 Get your replacement hot tub filters online at HotTubOutpost.com.  Whether you have a Sundance Spa, Jacuzzi, QCA Spa or other brand hot tub, you will find the right cartridge online at discount prices.  Buy at least 2 and have a spare to rotate out with the one in use. This helps have one filter in an overnight filter bath while the other is performing hot tub cleaning duty.
Hot Tub Filter Maintenance
The hot tub filter or the water filter is one of the more important parts of a hot tub. Having a clean filter  allows bathers to enjoy relaxing in germ free clear waters because the filters helps to remove body oil build-up, bugs, hair, leaves, and other particles from the tub.
In general, maintaining filters that are attached to any mechanical product helps to improve the longevity of the product, thus saving on maintenance and repair costs. Owners of hot tubs should routinely clean the filter(s) every 2 – 3 weeks, depending on the frequency of use.
Hot tub filter care is part of a broader hot tub water care program.  Learn more about the M-W-F (Monday – Wednesday – Friday) hot tub care program for perfect, crystal clear water.
The primary purpose of hot tub filters is to keep water clean. Water runs through the filter where all of the fine particulates are trapped and prevented from circulating throughout the spa system. This prevents hair, skin, leaves and other debris from floating through the water indefinitely. The filter is also cleaned when the spa water is changed every 3 months. Cartridge filters are cleaned at least monthly and sometimes more frequently, depending on the use and upkeep of the spa.
Enjoy your hot tub!