Hot tub too expensive? Already have a hot tub?  In any case, the lowest cost relaxation in the backyard is the tried and true fabric hammock.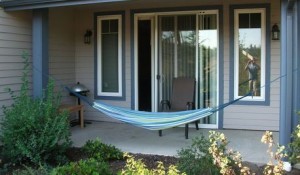 A comfortable hammock made from 100% recycled cotton comes in at under 20 bucks and can make all the difference in the world when you need a dry place to unwind.
Read a book in the shade and take it easy.  A hammock for the long days of summer will surely make yours more enjoyable.
Read the reviews on this 20 dollar fabric hammock here:
Texsport La Paz Hammock
This hammock has a 75 inch bed length and comes with a storage bag too.
From the manufacturer: "The La Paz is made of cool, comfortable cotton in a multicolored pattern. It
measures 40-by-120 inches (W x D), with a 75-inch bed length, and has a
300-pound weight limit. The hammock comes complete with a carrying and storage
bag."
Take this along on a camping trip, or permanently install it in the back yard. Have 2 trees, they are perfect for creating shade while holding the hammock.  You may even find you get a better siesta type sleep than you do in your own bed.
If you need pillows for the hammock or your own bed, get some comfortable pillows here.