Becoming familiar with your QCA Spa includes knowing the different buttons on the control panel and how often to change the water and filter.
110 volt spas are very easy to set up. They are just set into place, filled with water from a garden hose and plugged into a standard 110 volt power outlet.
The power cord already has built-in GFCI safety protection as it is a GFCI style power cord with integrated ground fault circuit interrupter. These are the easiest spas to get up and running as they usually do not require the services of an electrician.
For 220 volt installations, the services of a licensed electrician are essential. The electrician will install the proper circuit breakers in the main power box and run the appropriate gauge wire to the disconnect/junction box near the hot tub.  In that box will be a GFCI for protection and a shutoff/disconnect so that a trip to the main breaker is usually not needed when powering down the spa.
Control Panel
There are a variety of topside control panels on various QCA Spa models. The basic control panel has 4 buttons and temperature readout. To turn on the spa, tap the jet button.
There is also a light button to turn the white light on. Some spas have an LED bulb instead of a white light, but the same button controls the light on/off.
Waterfall
For spas with a built-in waterfall, there is a separate waterfall knob to turn which provides flow to the falls.
Air Systems
Some spas have a 2 HP air blower with separate control for the bubbles. A turbocharging feature is included with higher end QCA Spa models that have a blower installed. This turbo feature allows you to route air from the powerful blower to the water jets increasing their flow rate and allowing for custom massage power.
Wave System
QCA Spas offers the Wave Seat and Wave Lounger that provide a moving massage. A separate sequencer control is provided so you can set your program and even speed of how the massage moves from row to row for a truly dynamic massage. There is a pause button so the massage can be stopped right over your lower back or other desired area for a localized massage.
The Ultra Wave Lounger provides for a fully dynamic full body massage and is found on the Paradise Ultra and Cozumel Ultra models as well as the new GT500.
Filter
The cartridge filter is a single filter that should be rinsed off every few weeks and exchanged annually. Get your original QCA Spas filters from Hot Tub Outpost.
Cover
Keep the spa covered when not in use to maximize energy savings and retain heat. Covering the spa and locking the spa cover also keeps children, animals and unwanted visitors out.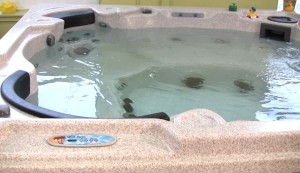 Each cover comes with cover lock keys and tie downs to keep the cover on even during high winds.  Get your factory original replacement QCA Spas covers at discount prices from Hot Tub Outpost.
Parts and Accessories
The Hot Tub Outpost provides the exact replacement parts, covers, filters and accessories for your QCA Spa – the same exact ones that come with every new QCA Spa – not a poor substitute.
Get factory original replacement parts and accessories for your QCA Spa from the Hot Tub Outpost USA.