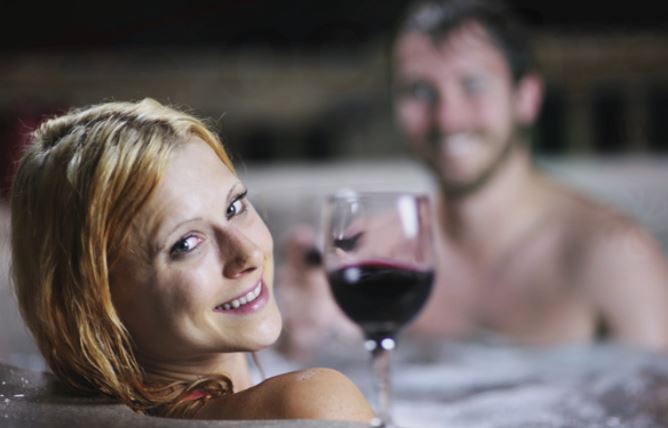 One of the most popular corner spas in the world is the QCA Spas Riviera. This model is a plug and play spa, so it can be operated at 120 volts with the included GFCI protected power cord, or it can be hard-wired with 230 volt service. The difference between the two operating voltages is that at 120v, the heater shuts off when the pump is put into high speed massage mode. The heater operates at 1kw at 120v, but turns into a 4kw heater at 230v.  At 230v, the heater also can remain in operation when the pump is on high speed. However, the ease of setup and lower initial installation cost will have many trying the spa at 120v with regular household power.
Now for comfort, this 3 person spa is very deep and roomy. There are different seating levels and various clusters of massage jets. Note that when comparing this spa with others, it is important to compare the water capacity which in the Riviera is about 240 gallons, as that is identical to the amount of room you have in the spa compared to one that holds less gallons. That way, the actually roominess can be compared vs. the dimensions which sometimes hide the fact that other spas may be on false bottoms or pedestals which limit the interior depth.  Other models may also have very broad/wide edges which makes building the spa easier, but leaves less room for the bathers.
12 spa jets are just the right amount for this spa, easily operated by a 2 speed quiet hi-flow pump.
What extras to add to the Riviera?  If you shop right (at Hot Tub Outpost), you already get the hard cover included (not the soft, flexible cover that comes standard with the spa). Any outdoor installation of a hot tub should have a hard cover with it, not a soft top cover, so that rain can run off easily. The cover also includes a taper from 4″ to 2″ for easy melting ice and snow runoff as well. The hard cover includes cover locks and tie down straps to hold the cover in place, even in strong winds.
The best deal online on a Riviera 3 person hot tub is at www.HotTubOutpost.com.