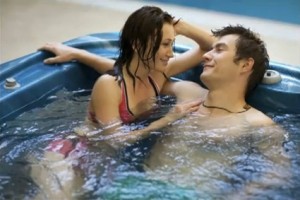 The Soft Top provides an additional layer of insulation to any hot tub make and model.  It floats on the surface of the hot tub water and creates another air barrier between the underside of the rigid spa cover and the water's surface.
These floating soft tops come in 2 sizes, so measure the maximum width and order the correct size. Then trim it to fit your exact mold/shape and enjoy additional energy savings.
The soft top does not replace a hard cover, but provides additional energy savings and helps keep the warmth in.  Some people use a pool cover and some do not, but it is all a question of energy savings and awareness.
Heat rises, so the most vulnerable escape path for hot tub heat is to escape out the top.  A soft top cover provides another layer of defense to prevent heat from escaping. Get all your hot tub accessories and parts online at the Hot Tub Outpost.