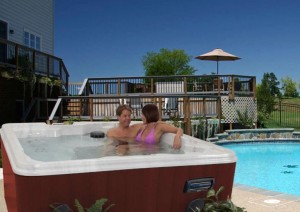 110 volt hot tubs are easy to install and this is one of the main features that makes them so attractive.  Simply plug in the included GFCI power cord into a standard power outlet, fill the spa with the garden hose and you are ready to relax.  No expensive electrician or wiring, since this is easy to set in place and fill up.
The benefit of 220 volt spas is that the pumps can be on high and the spa will still heat.
Certain spas are convertible from 110v to 220v, so the spa pack can be setup for 110v or 220v. By just moving 1 wire, these convertible spas can be setup for 220v operation. You will need an electrician to then come out and provide the 220v power line and an external GFCI, but you won't need to exchange any parts on the hot tub or buy a new hot tub heater as the heater converts from 1kw operation at 110v to a 4kw heater at 220 volts.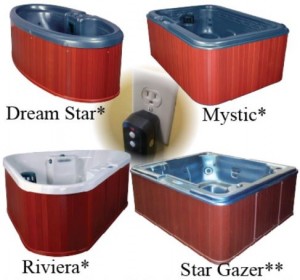 Convertible hot tubs that can operate at 110 volts include the Mystic, Star Gazer and Riviera models found at www.HotTubOutpost.com.  The Mystic is a 2-4 person hot tub that allows for complete immersion underwater, yet it does not need to heat as much water as the larger spas but is always ready when you are.  The Star Gazer is one of the most popular hot tubs that are plugged and played at 110 volts since it is laid out like a "real hot tub" with comfortable seating and a lounger.  The Riviera is the most popular 3 person hot tub that fits into a corner or almost anywhere. This spa too, is convertible from 110v to 220v if desired.
These hot tubs are extremely affordable and come with free shipping too, and Hot Tub Outpost throws in the hard cover instead of the standard soft flexible spa cover for added utility, safety and insulation outdoors.
Want to know how to convert one of these hot tubs from 110v to 220v?  See the how-to video at Hot Tub Outpost.