When Therasauna was developed, it is very user-friendly. The deluxe Therasaunas have 6 screws on each side with an allen wrench included for easy assembly.
If there is ever any service issue, anything can be repaired or accessed with just a screwdriver.
The infrared Theramitters are high quality and have a lifetime guarantee on the ceramic emitter.  They are very robust, but never spray water on the infrared heater elements.  These infrared heaters have a lifespan of 10,000 hours which translates into an hour a day for 30 years, so they will never wear out.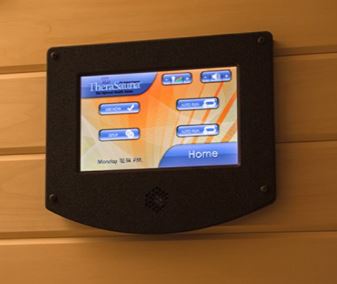 The warranty on the touchscreen is 3 years.
The infrared saunas just plug into a household outlet. The smallest unit plugs into a standard 15 amp outlet while the larger units require a dedicated 20 amp outlet.
The patented MPS micron power select control on the main line of Therasauna allows for preprogramming the temperature so the unit will warm up on its own and be ready to go when you are.
The patented control system allows for the constant output of 9.4 microns (Far infrared wavelength) which is seen to be the most beneficial for the human body. Once the ambient cabin temperature is reached, Therasauna continues to output this beneficial infrared while other cheaper infrared saunas are just controlled with a standard thermostat and shut off. Once the standard sauna has shut off, there is no infrared output at the heaters and you are left sitting in a warm box.

With Therasauna, you continue to sweat out impurities and toxins while you relax and rejuvenate.
Therasaunas are easy to assemble and fit indoors in almost any location. From 1-2 person all the way up to 4 person saunas, order yours from Hot Tub Outpost and get free shipping.