Solar Pump and Filter System
A Savior NCSF55 Solar Pool Pump and Filter System

can help lower energy costs and keep the pool water filtered and clean.  Alternative energy from the sun will effectively help reduce the cost of operating your swimming pool. Normal pool pumps can cost $60-%100/mo. to operate.  Why not power your pool pump with free energy from the sun? A solar pool pump will also save thousands of pounds of pollutants from enteriing the Earth's atmosphere every year.
Filter your pool, spa or pond powered by the fun. Family water safe and no more noise! Don't forget about your neighbors and help your pocketbook and the environment at the same time.
Save money and energy with the floating, solar-powered Savior NCSF55 pool pump and filter system which runs silently from just the power of the sun.  You can turn off your inefficient, noisy, and expensive-to-operate pool equipment, save money and reduce pollution all at the same time.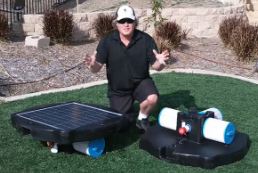 The Savior Solar Pool Filter uses the energy from the sun to pump up to 11,000 gallons a day through three reusable 20 micron filter cartridges.
100-percent solar powered pool pump and filter system saves energy and money
Filters up to 11,000 gallons per day through three reusable 20 micron filter cartridges
No installation or batteries required
Noise Free
Takes up to 17,000 pounds of pollution out of the air every year
1-year limited warranty
 The Savior can pay for itself in as few as 7 months to a year.
The Savior NCSF55 solar-powered pool pump and filter system.
Installation is as easy as taking the solar-powered pump out of the box and placing it on the pad or surface of your in-ground or above ground swimming pool, Jacuzzi, hot tub, or pond. You won't need to worry about buying and installing batteries or connecting it to your existing water pump equipment.  It's solar!
No plumbing, no electrical hook-ups, and no energy consumption. It gets the power from the sun.
The Savior pumps up to 11,000 gallons a day through three reusable 20-micron filter cartridges.  You will only need to occasionally clean out the filters, and then place the solar pump and filter back in the water. Unlike a common sand pool filter,with the Savior's cartridge filter you never have to worry about getting sand in your pool.
Whisper technology makes this pump much quieter than your current noisy pool pump equipment, so you and your neighbors will be happy abouut this. It also requires less maintenance than your existing pool filter. Easily portable, the pump works in both sunny and cloudy weather–you don't need to live in an all-sun-all-the-time climate to enjoy the benefits of this solar-powered tool. (During periods of inclement weather, or for larger pools, your existing pool pump can always be operated for a few hours a day as a supplement to maintain filtered water.)
The Savior is powered by a 55-watt, 12-volt policrystalline silicon solar panel made of tempered glass and measuring 25.7 x 25.2 x 1.38 inches (WxLxH). The unit measures 35 x 35.5 x 12 inches (WxLxH) and weighs 38 pounds. The pool pump's solar panel has a life expectancy of 10 to 30 years which is higher than a typical pool pump, and you can expect to spend approximately $100 every 2 to 3 years on normal unit maintenance (including replacing the pump/motor and filter). It's backed by a 1-year limited warranty and made in the USA.
Specifications
Flow Rate:18 Gallons-Per-Minute (GPM)
Flow Rate:1,100 Gallons-Per-Hour (GPH)
Maximum Head:10 feet
Hose Outlet:1-1/8-inch
Maximum Water Temperature:104 degrees F
Typical Pump Life:1,500 hours
Filtration Media:175 pleat count, 3 ounce Reemay 2033; 20µm cartridges
Effective Filtration Area: 96 square feet
Description of NCSF55 Solar Pool Pump and Filter System
The Savior Solar Pool Filter is needed because of the overwhelming expense you're spending on pumping and filtering your swimming pool water. The Savior Solar Pool Filter isn't just different, it's a better way to filter your pool or spa. The Savior finally gives you an opportunity to turn off your inefficient, noisy, and expensive to operate pool equipment… and it reduces your pollution which is better for our planet. The Savior Solar Pool Filter uses the energy from the sun to pump up to 11,000 gallons a day through (3) three reusable 20 micron filter cartridges. No Installation required.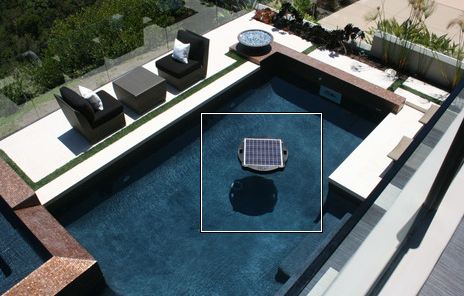 The Savior Solar Pool Filter is EASY and requires less maintenance than your existing pool filter. Please Note: If you have a attached spa, salt cell or a pool cleaner that you would like to run or flush out… then run your pool equipment for a few minutes or up a few hours a day. – Filter: 96-square-foot cartridge / 20 microns – flow rate: up to 1100 GPH 18 GPM – Savior Solar module: 55 Watts, 12 volts, 3.1A – Multicrystalline silicon solar – Product weight: 38-pounds – Savior Product Size: 35-1/2-by-34-1/2-by-13-inches – The greenest home appliance for a pool owner. Savior – Solar Pool Filter.
Solar Pump Customer Reviews
 I've had my original filter system off for 6 weeks now and my pool is still crystal clear. My backyard isn't that big so there are sun obstructions early morning and evening but the unrelenting texas sun is able to drive this little guy to its maximum potential. The high efficiency panel runs the filter in excess of 6 hours each day. It's half the size of my 60W hobby panels. I'm going to try and upload a picture to show it's size and the quality of my pool water with just a single Savior taking care of my 35000 gallon pool. They are only rated for 11k gallons. If i see any cloudiness i will gladly pick up another one.
It has already 1/4th paid for itself in electricity savings. That's not including the cracked pipes i don't have to use/repair anymore nor the water we were wasting from the cracks.
It isn't small but it takes up less room than having an extra inflatable mattress in your pool. It doesn't hurt a thing to take it out of the pool while you are using it. Once not in direct sunlight it just goes to sleep.
The motor is amazing, it pushes a jacuzzi-jet-strong column of water straight down. This jet ends up doing a good job of pushing any debris on the bottom of the shallow end down to the deep end reducing my vacuuming chore by half. I can't wait to see what accessories they come up with that might work from that.
It's practically silent, I can only hear when i swim under it. If i'm not in the pool i have to touch it to be sure it's working.
Love it, my only wish is that it would mow the lawn too.
This is a fantastic product invented that will save you money each and every month off your electric bill. The Savior Solar pool and filter system is one of a kind and i love that its not costing me anything to operate it. It totally runs off of energy from the sun. I have to admit, i was pretty skeptical at first but after i put it into the pool and let it do its thing i was convinced that i made the best decision and i'm happy i did. I currently live in Glendale AZ where temps here get on average 115 degrees during summer months and i was having to run pool pump 10-12 hours a day. Now i'm down to just 2 hours a day and pool still looks like i've ran pool pump all day. I check water levels at leslies pool almost every week and every thing is fine. Would highly recommend this to anyone who owns pool or spa. If you really want to save some money you really need to get this ASAP!!!
Wow, not too often can you trust the write ups and claims companies make on their products. But I can tell you now, that this floating solar pool pump and filter system WORKS… and it does what the write up indicates and what Mr. Evingham says on his videos. I feel we have some hope here in the USA market of inventors! Good Job!
After setting up an 18 ft. Diameter intex pool by myself, and looking at the unopened box with the pump that came with the pool, I decided to see how the Savior would do all by itself, today is day six and the water is still clear with nothing but the Savior No clorine, no floatron (which I have on hand in case of algae or other problems) but so far the Savior has been great.. No electricity, no cord to trip over and no loud noise, no clorine smell, just relaxing sounds of summer. I highly recommend this wonderful product. When I had questions about the Savior, the owner called me up personally and was helpful and obviously cares about his product and customers. Highly recommend. Ten stars.
Click here for more information on the
Savior NCSF55 Solar Pool Pump and Filter System
.