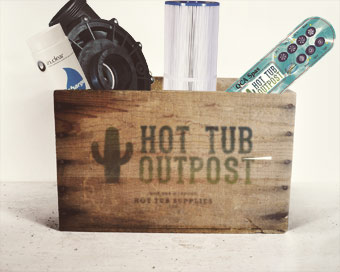 You have a hot tub for a reason – to enjoy a little R&R after work, or even to entertain friends and family with a spa party at home.  Maybe you bought your spa for hydrotherapy to help with tight muscles, rheumatism, joint pain, back pain or for other therapeutic reasons. Whatever your reason for using a hot tub, one thing is for certain – it needs care on a regular basis in order for you to maximize your enjoyment of the tub, as well as protect your financial investment.
There are many components that make up your hot tub and need to be maintained, such as the filter, pump, and jets. Maintaining the water's pH is extremely important, both for the health of bathers as well as the equipment.  Improper pH can lead to acidity or alkalinity problems, which can cause corrosion or other issues with your equipment and jets.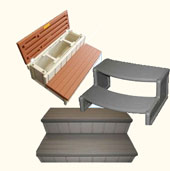 If you are having problems maintaining your spa water, check out the handy water maintenance guide on HotTubOutpost.com.  They have a Monday-Wednesday-Friday program which is really easy to follow and will help keep your spa water crystal clear.  Another important maintenance task is cleaning your filter.  The filter should be removed and cleaned with a  hose at least once a week.  A good tip is to buy a second filter, so you can remove the original filter at the end of the month, and put it in a bucket with water and cleaning solution overnight.  While that filter is getting deep cleaned, you can pop the new filter in.  Take the original filter out, rinse it well and let it dry so you can do the process again the following month.  Not only will your filter function better, it will last longer and help protect your water and equipment.
While maintenance is a necessity, you also want to have fun with your spa. There are many accessories that you can buy to make your hot tub experience as enjoyable and unique as possible.
Some of the hot tub spa accessories that are available include:
Cover lifters – Make removing the cover easy and safe.  Plus it holds the cover out of the way and off the ground when the spa is in use.
Steps – Make it easy to get in and out of the hot tub;
Soft Covers – an added layer to keep the heat in the spa – great for northern climates!
Spa trays – Serve yourself and your guests drinks right in the comfort of your spa!
Safety rails – These rails make entering and exiting the spa much safer;
Fragrances – Add to the level of relaxation by adding wonderful aromas to the water.  Spa aromatherapy liquids and salts are specially formulated for hot tubs and will not clog water lines or cause damage to equipment.
Automatic chemical feeder – Let the chemical feeder do the work for you buy adding bromine as needed.
LED lighting – The perfect ambience can be created with LED lighting in multiple colors;
Music speakers – The party can get even more exciting with built-in speakers.  Feel the music right through the water with a WOW stereo system.
Counterweight spa pillows – Maximize your level of comfort with these ergonomic pillows – they can be used to site on for short bathers or as neck pillows.
Towel racks – These are especially handy when getting out of the hot tub in the middle of winter!
These accessories can amp up your level of enjoyment of your spa. They also make great gifts for all your friends and family who also have a spa of their own!
If you're in the market for hot tub spa accessories, visit the online showroom at HotTubOutpost.com for a wide selection of replacement parts and spa accessories, including replacement covers, spa chemicals and spa parts. At the Hot Tub Outpost, you will find shopping for parts and accessories easy and convenient. Best of all, you can have everything delivered right to your door.  Make the most of your hot tub by visiting www.HotTubOutpost.com for all your spa needs.