We stop by for a visit to Larry Jones with QCA Spas and Therasauna to update us on the benefits of a far infrared sauna called Therasauna.
The number one benefit of a far infrared sauna is to detox and get rid of the impurities from the body by sweating.  Far infrared is a penetrating light ray so it penetrates the skin 1 1/2″ to 2″ deep and resonates to break up water molecules to get rid of impurities and toxins that are seen to cause all kinds of health issues.
The health benefits are wide ranging such as getting rid of achyness and soreness of rheumatoid arthritis and providing relief for arthritis sufferers. Although there is a place for prescription drugs, our society has long been accused of being over-medicated.  Taking too much medication can have side effects and negative health consequences so when possible, alternative health practitioners always prefer alternative treatments and processes rather than just resorting to "pill popping".
Some skin disorders can have beneficial improvement through the sweating out of toxins induced by a far infrared cabin.
With the most beneficial 9.4 micron infrared output, deep resonating of molecules releases impurities and toxins.  Alternative medicine doctors maintain that toxins can cause or enable disease as well as the common cold.  If you get rid of these impurities stored in the body, then you can be a healthier person.  Far infrared is not a cure for disease, but it will help you look better, feel better, be more relaxed and even live longer without needing to over-medicate or take prescription drugs that may cause side effects or adverse health issues in certain circumstances.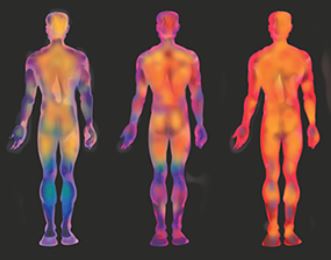 Far infrared saunas are even approved by the Canadian Standards Association and are sold to the public in Europe, Asia, Australia and all around the world.  The infrared saunas have been available and on the market for over 35 years.  Posted on the US national library of medicine website it says: "This review is of importance to those currently suffering from—or interested in preventing—common symptoms such as pain, stress, and fatigue, as well as common chronic diseases such as hypertension, dyslipidemia, diabetes, and obesity….There is preliminary but high-quality support of FIRS therapy for treatment of NYHA class II and III CHF and systolic hypertension, and there is fair preliminary support for its role in reducing chronic pain."
In contrast to the uncomfortable temperatures of standard wood stove or 220 volt heater wet or hot rock saunas which many people don't tolerate well, the far infrared sauna heats to under 60C for a more comfortable ambient temperature, yet the sweat volume produced is higher because of the deep heating effects of infrared.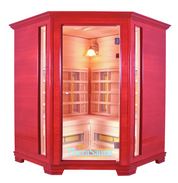 Relaxing in an infrared sauna helps to relieve stress, sweat out impurities at a comfortable temperature, relieve pains caused by certain ailments that benefit from direct heat, improve circulation and lower blood pressure and helps to cleanse and improve skin tone.  It even is suggested to help with a comprehensive weight loss program because if you sit in an infrared sauna for 1/2 hour, you will burn hundreds of calories – and you will not be near the refrigerator!
As with any type of sauna or activity that causes the body to sweat, it is important to stay hydrated, so drink plenty of water.
Select from a wide range of infrared saunas and infrared products from the Hot Tub Outpost.