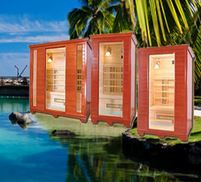 The main line of Therasauna infrared sauna cabins are manufactured in the United States. We also offer lower priced saunas that come from overseas.
Therasauna has a manufacturing plant in Iowa with the heaters coming from Chicago, the electronics manufactured exclusively for Therasauna out of Minneapolis and unlike others who import these components, the Therasauna is made in the USA.
Therasauna customers from almost 20 years ago can still get original replacement parts if needed through our long standing support of this line of infrared saunas unlike many other sauna brands that have either went out of business or changed their sauna line, manufacturing name and sauna components after a few years.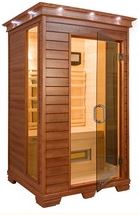 The patented control system features a worldwide patent so that nobody else can offer this control type. These controls allow for the constant output of infrared even after the ambient cabin set temperature is reached. Get the benefits of consistent infrared at the temperature you are comfortable with.
Far infrared saunas assemble easily right in your own home.
Stand behind the "Made in the USA" companies like Therasauna and get the best infrared sauna on the market today at the best prices from Hot Tub Outpost.