The hot tub cover lifter is an essential accessory to help remove the spa cover and replace it with ease by just one person.  Often times, only one person will decide to use the hot tub and it is not always practical to find another person to help remove the spa cover, thus creating a barrier to even going in the spa if nobody else is around.  This can be overcome by installing a spa cover lifter.
Cover Lifter Types
Cover lifts come in different sizes and types. Many will fit almost any spa, but larger spas may need a larger cover lifter.
Cover Lift Benefits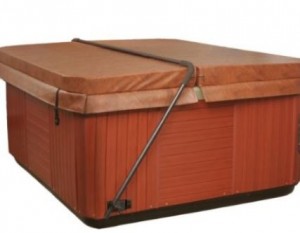 The cover lift extends the life of the cover by not subjecting it to repeated impacts with objects on the floor as it typically comes crashing down the side of the spa after being pulled off.
This type of jostling can also cause a puncture in the inner moisture barrier, which then can allow water to enter the inner foam core.  What you end up with is a waterlogged spa cover that becomes extremely heavy to move and it starts to smell as well.
The cover lifter also allows the cover to stowe next to the spa when in use, eliminating any storage problem. The cover remains cleaner because it is not mixed in with grass, dirt or other debris as it safely sits attached to the spa on one side by the cover lifting device.
Avoid back injury or other injury by trying to hoist a heavy or bulky spa cover by yourself.  Spas are supposed to relax and rejuvinate the body, and not cause injury while trying to get ready to get into the spa.
Discount Cover Lifters
What do cover lifters cost?  Usually between $100-$200 depending on the soure and model.
The Cover Butler spa cover lifter is on sale for $149 and features a full bar.
Positive hot tub cover lifter review:
" I was a little skeptical because of the low price, but this really works well."
Here is one model well under $100:
Challenger Low Mount Spa Cover Lift
Make it easy on yourself and invest in a hot tub cover lifter.