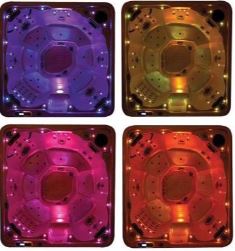 Many hot tub light fixtures are located within easy access of the nearest side panel that opens. Not all spas allow access to all sides of the spa, but many companies have panels that are removable all the way around the spa.
If the 12 volt, 5 watt standard white light bulb is mounted to such a fixture that allows for rear access through a hot tub cabinet side panel, then the service person should shut down power to the spa and open the side panel to access the rear side of the fixture.
A slotted screwdriver may be handy in getting the fixture unsnapped so that it can be rotated to the left in order to remove it. Take care not to crack the fixture or tug on the wire.
Once removed, the 12 volt bulb can be replaced by either a standard white bulb or an LED light bulb that operates at 12 volts.
Replace the fixture in the opposite direction from when you removed it (by inserting and turning fixture to the right and snap into place).
When a standard white bulb burns out and calls for replacement, why not upgrade to an LED light bulb?  For that matter, upgrading to an LED bulb can be done anytime to improve the ambiance of the hot tub experience.
LED hot tub bulbs can rotate through different color patterns or stop on a desired light color. Want blue light in the spa?  Stop the LED bulb on the color blue by tapping the light button. Follow the instructions that come with the bulb as each operates slightly differently.
Add aromatherapy as well as colored ambient light to your hot tub to elevate the senses.