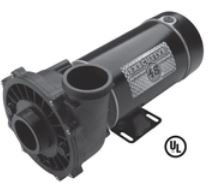 Your spa's pump has a big job. It keeps the waters moving through the jets to get the pulsating, bubbling effect that provides the soothing and relaxing experience you crave.  It  also keeps the water clean and free of bacteria by moving it through the filter and distributes the heat to help keep the water warm. Without a working pump, the hot tub is essentially useless.
Since it's such an important part of your hot tub's functionality, it's important to keep it working properly. Regular maintenance is a must, as is paying close attention to any signs or symptoms that there may be something wrong with it.  Depending on how well you maintain it, it will probably last from 5-10 years.
How Hot Tub Pumps Work
If you're familiar with pumps found in pools, wells, and even cars, then you'll know that the design of a spa pump is very similar to these others. An electric motor can be found inside the pump. A metal shaft then extends out of the pump, and into an adjacent chamber. This part of the shaft of the pump is where a turbine is located, which rotates like blades in a fan.
Two pipes connect this shaft to the chamber, and when the turbine spins after the pump is started, water is pulled in from one pipe and forced out through the other. Where the pump is directed will depend on the fans' design, as well as the direction that the turbine turns.
Buy Replacement Spa Pumps From Hot Tub Outpost
When it comes time to buy spa pump online, you should can save money by purchasing and replacing it yourself (or have a technician do it.)  At Hot Tub Outpost, they have a full line of tip quality spa pumps at discount prices, as well as handy videos and tips on spa pump maintenance and care. They've been in the hot tub industry for years, providing customers with the highest quality parts at the lowest prices around.
At Hot Tub Outpost, you'll find a wide variety of the best name brands in the hot tub industry, including:
QCA Spas
Balboa
Confer
Poolmaster
Waterway
Aqua-Flo
. . . and many more!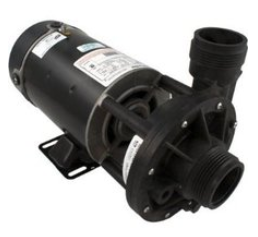 If the specific spa pump you need isn't shown in our online showroom, simply get in touch with one of our customer service representatives and we'll be happy to locate it for you! When you're in the market to buy replacement spa pumps, head on over to www.HotTubOutpost.com today to save big money and get free shipping!
They also carry a full range of fun backyard items including fire pit tables, heat lamps, hammocks, LED lights and more.  For the indoors, they have a range of infrared saunas, massage chairs and aromatherapy options.  Of course, they specialize in parts and accessories for hot tubs – so you can always find what you need – and have it delivered to your door!