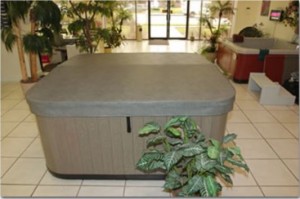 Getting free shipping on a bulky hot tub cover on top of a great discount makes shopping for hot tub covers online a breeze.  Save time and money by visiting www.HotTubOutpost.com and ordering any shape cover for any model.
Cover options on some websites can be overwhelming, because when you get to their checkout, they
start adding things like "center core that won't snap after a week of use" etc..  Things that one would consider to be standard on a quality hard cover.  When you visit the Hot Tub Outpost, you are already getting a quality cover, so the only thing to do is verify the measurements of your existing cover to be 100% sure you will receive the best fitting cover possible.
Some sites say, don't worry – just give us the model name.  While that does work most of the time, there are instances where the manufacturer has changed the cover size of a particular model or reworked the mold. Once you receive a poorly fitting cover, the problems begin because now shipping that big bulky cover back to wherever you get the cover from is on your dime and can be quite costly to exchange a cover. This is why, even if they say not to measure, it is best to take out a tape measure and just verify your measurements to be sure. Having both your measurements and the model name allows for better chances that you will receive the right cover.
There is an upgrade from the standard 4″ thick cover to a 5″ thick cover which can be great for winter climates and those with hot tubs up north.  Having a thicker cover may mean considering a cover lifter as well, since the big ones can get quite cumbersome to manage, especially for a single person.
A good quality cover not only has UV-inhibitors to prevent bleaching out in the sun, but also has upgraded features such as a thicker center core material, thicker vapor barrier, steam-stoppers to prevent heat from escaping out the seam and double-stitching where needed to prevent unraveling and handles breaking off.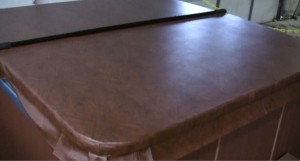 There are a lot of hidden elements that make a quality hot tub cover superior to those that are cheap and cut corners.  Having a commercial-quality c-channel adds structural support to the center of the cover and having a breathable underside material allows water to dissipate rather than collect. This underside material should also be chemical-resistant.
Child-proof locks should be standard for safety and tie-downs are also great to prevent the cover from blowing away in the wind.
Get the Best Spa Cover in the West at the Hot Tub Outpost.