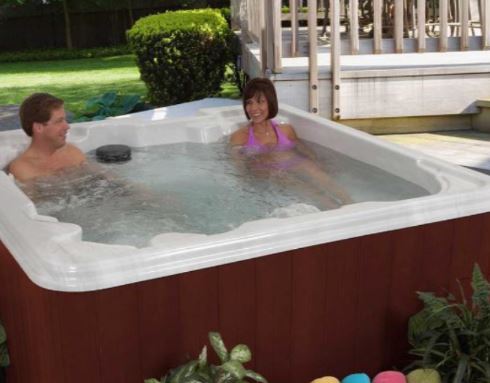 The GFCI cord that comes with the 120 volt plug and play spas by QCA Spas is 15 feet long and comes mounted to the spa electronics.
GFCI (Ground Fault Circuit Interrupter) is required for the protection of everyone using a hot tub. For 230 volt hot tubs, the GFCI is external to the spa, usually mounted in a disconnect panel near the spa.  In the case of the plug and play models, the GFCI is integrated right into the power cord, which is included with the price of the spa, so no external GFCI is necessary.
The GFCI cord is a 110-120v/15 amp cord and features a test button on the bottom and a reset button on the top.  When the GFCI is fully functional, the red light on the top illuminates, indicating the spa is on.
To get inside the cabinet of the spa, there are removable access panels.  The power pack is usually located on the side of the spa that has the control panel.  The GFCI power cord is attached to the power pack and in newer models is already routed to the exterior of the spa through an opening in the side panel.  On older models, the GFCI cord may be tucked away inside the spa and require a hole to get it to the exterior.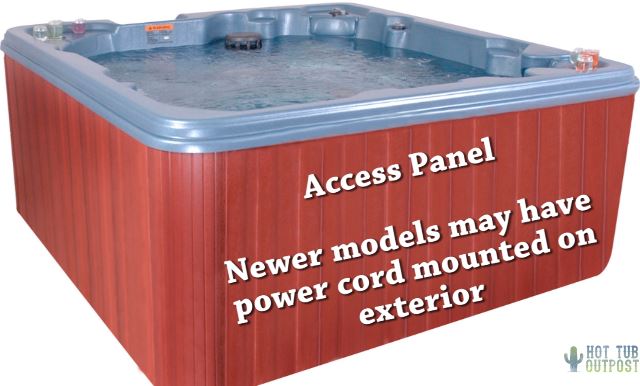 Once the spa is in place and full of water, the GFCI power cord can be plugged in and the spa can be started up in normal operation mode.
Plug and play spas included the GFCI power cord are meant to be convenient and cost less for initial startup as your electrician will not need to run a new cable from the breaker and install an exterior GFCI as is required with most other spas.
Some plug and play spa models such as Riviera, Mystic and Stargazer are convertible to 230v.  See the Hot Tub Outpost video on how your electrician can convert a 120v plug and play spa to a 230 volt spa.